I was really trying to "adult" today, so I got these little smell good things.
Febreze SmallSpaces with Gain Island Fresh Starter Kit Air Freshener (1 Count, 5.5 mL)
$3.12
I got Bora Bora because it was the most beachy smelling scent.
Febreze Car, Bora Bora - 0.06oz
$2.97
They are amazing if you are trying to watch your weight and still get a lot of protein intake, so that way you can build muscles.
Quest Nutrition® Chocolate Brownie Protein Bar - 4ct
$7.99
Which are amazing heated up, by the way.
Quest Nutrition® Blueberry Muffin Protein Bar - 4ct
$7.99
Whenever I'm getting ready for fitness wear or swimwear this is always a go-to for me because I'm trying to build muscle and be very lean.
Quest Nutrition® Cookies & Cream Protein Bar - 4ct
$7.99
My skin has been breaking out so badly…. so I'm going to try this new product to see if it actually works on my skin.
Biore Charcoal Acne Scrub 4.5 oz
$5.99
I'm hoping that by changing to more natural things or things with less chemicals in them, it's going to help it out some—because the wedding day is coming up, and I cannot have bad skin on my wedding day.
Simple Kind to Skin Micellar Makeup Remover Wipes 25 ct
$5.99
I like that I can get multiple uses out of them without paying $30 for a pair of lashes.
Ardell® Eyelash Wispies Black - 1ct
$3.79
We tried these before we got on camera—he likes them. A lot.
Full Moon Sliced Chicken Jerky Natural Cuts 6oz
$6.79
I like them because there is all natural roasted chicken in them.
Buddy Biscuits Grain Free Chicken Soft & Chewy Treats 5oz
$4.49
I like how in the back it had this nice criss-cross.
Women's Short Sleeve T-Shirt Dress - Mossimo Supply Co.
$19.99
This fabric is great because it keeps it super casual, and the zipper makes it even more fun.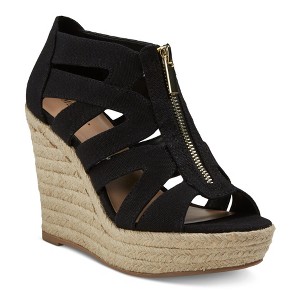 Women's Ruth Canvas Zipper Wedge Espadrille Sandals - Merona
$29.99
I love how they're neutral and can be put with literally everything.
Women's Karlyn Quarter Straps Wedge Sandals - Merona
$29.99