I got this little, kind of aqua tank to match these shorts.
Toddler Girls' Tank Top - Cat & Jack Aqua Float
$4.50
You guys, it tastes so good.
Bai Sao Paulo Strawberry Lemonade - 18 fl oz
$1.99
I'm just like, I gotta try that.
Physician's Formula ® Bronzer Light/pastel .38 oz
$14.39
I bought this, because this was like $10. I did not want to spend money on another lighted mirror.
Conair 2 Sided 3x Round Stand Mirror
$4.14
I've tried this shampoo and conditioner before… and I think it smells good.
Nexxus Color Assure Restoring Conditioner - 13.5 fl oz
$16.99
I'm always looking for little things for her to do… and, like I thought, she loved putting them on the fridge.
Chefmate Alphabet Magnets - Room Essentials
$2.99
The inside is my favorite part.
Owl and Friends Cereal Bowl - Circo
$1.70
Round Divided Dinner Plate Owl & Friends - Circo
$2.84
It does have a really good smell.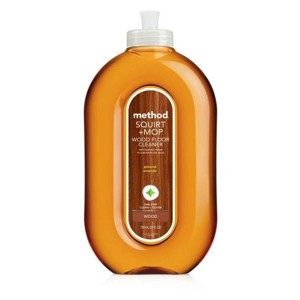 Method Cleaning Products Squirt + Mop Wood Floor Cleaner Almond 25 fl oz
$4.74
These smell sooooo good… and I also will say, I absolutely love the packaging on this.
Gain Fireworks Tropical Sunrise In-Wash Scent Booster 19.5 oz
$9.79
A deodorant for Kyle, because he needed new deodorant.
Dove Men+Care Clean Comfort Antiperspirant Deodorant 2.7 oz
$4.49
Heavy Duty Disposable Paper Plates - 8.5" - 54ct - up & up
$2.99